Our centres in Falmer and Croydon
How to Get Here
Visiting Sussex Innovation
We believe in fostering a welcoming environment that is accessible and inclusive to all. Our centres have great transport links, parking and step-free access.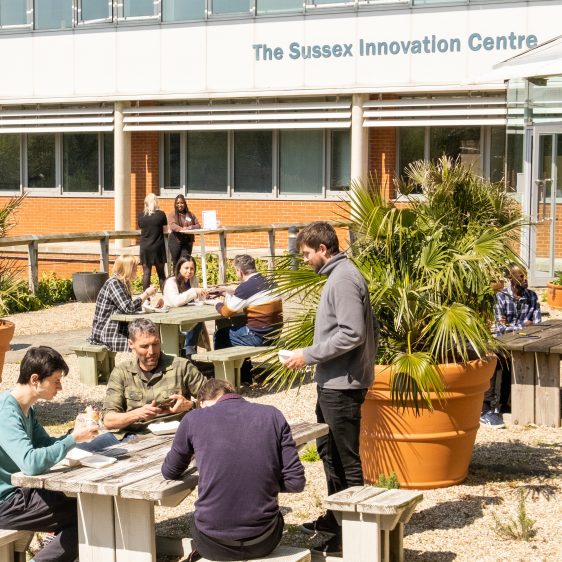 Falmer
The Sussex Innovation centre in Falmer is located on the University of Sussex campus (see map) and can be easily accessed through all the usual forms of public and private transport.  There is step-free access to the building at the rear and a lift giving access to the first floor.
Address: Sussex Innovation Centre, University of Sussex, Science Park Square, Falmer, Brighton, BN1 9SB
Getting to our centre in Falmer
Falmer station (on the Brighton-Lewes-Eastbourne line) is an 11 minute walk to our centre passing through the University of Sussex campus (see map for step-free access). The average journey time between Brighton and Falmer is 10 minutes and from Lewes 7 minutes. For travel details visit https://www.thetrainline.com/
The Falmer centre is frequently served by several bus routes operated by Brighton & Hove Buses. The 23, 25 and N25 services go via dedicated bus lanes into the university campus where you can disembark at Sussex House. Sussex Innovation is located a short walk up the hill (see map).
Alternatively, the less frequent 5B services can get you as far as Falmer station, which is a short walk away from the centre (see annotated map).
The 28, 29, 29B and 29X services run between Tunbridge Wells and Brighton via the A27 and will drop you off just next to campus and requires a short walk to the centre (see annotated map)
For step-free access to the centre, disembark from 5B, 28,29, 29B or a 29X service at Falmer Station, a 23 service at North South Road or a 25 and N25 service at Science Park Road.  If you are planning to use a 25 or a N25 service and intend to use a step-free route, check the Brighton & Hove buses website before travelling to ensure that there are no temporary stop closures that may impact your journey—if Science Park Road is closed, disembark at North South Road.
See: https://www.buses.co.uk/services for full details.
Access is via the A27 in both directions and directly from Lewes by crossing the campus (see map). At the entrance to the main Sussex Innovation car park you will need to buzz reception to be let in.  While there is step-free access to the centre from both car parks, the rear car park (see map) is closer to the step-free entrance by the Sussex Innovation Café.
Sussex Innovation installed one of the first electric vehicle charging points in the city and now has capacity to charge six cars. For further information about electric charge points please see: https://www.brighton-hove.gov.uk/content/parking-and-travel/parking/electric-vehicles-and-charging
Depending on the time of the day, cycling can be one of the quickest ways to travel to Sussex Innovation. We are served by cycling route (National Cycle Network) 90, which runs through Brighton, along the Lewes Road and out towards Falmer. For the more adventurous, there are cycle paths and off road routes from Rottingdean and Lewes.
We have secure bike parking at the rear of the building (See map) and limited shower facilities.
We also encourage the use of electric bikes that make getting to us a breeze from all directions.
Croydon
Located on the 6th and 11th floors of the iconic One Croydon building, our Croydon hub has great transport links including: trains, buses and trams, connecting us to the rest of the borough and beyond.  There is step-free access to the building at the entrance and a lift giving access to our floors.
Address: 12-16 Addiscombe Rd, Croydon CR0 0XT
Getting to our centre in Croydon